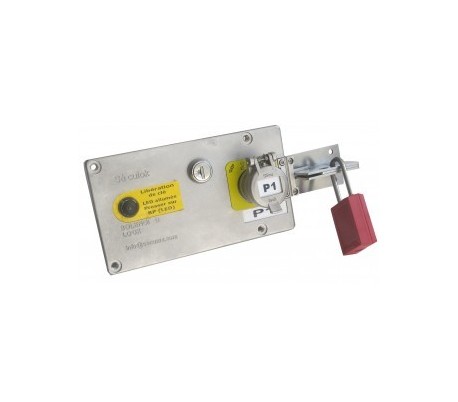 View larger
SCL - HC
SOLENOID CONTROLLED SWITCH LOCK
WITH PADLOCK
CHARACTERISTICS:
- Solenoid controlled single-key or multi- key switch interlock with
padlocking device 2 holes for shackle diameter 8 mm max ref:HC2
- Padlockable in both key trapped or key free position.
- 1 to 5 locks (keys), multi-key ref: 2E, 3E , 4E, 5E
- 2NO+2NC contacts + 2 solenoid position
control contacts ref: 2O2F (positive breaking safety contacts)
- 100% Solenoid Duty Cycle, LED, Push Button, Override key
- Resistant up to a temperature of -25°C to 80°C
MATERIALS:
Stainless Steel 316
ELECTRICAL FEATURES:
- 24 V AC/DC 13 W power supply ref: 24V
- Contacts: AC2116A, AC23 4kW/230V,
7.5/400V, AC3 3kW/230V, 4kW/400V
OPTIONS:
-48 V power supply ref : 48V
-Lock dustcover ref : CE
-In enclosure Stainless Steel 304L ref :IP55M
-Key ejection ref : EJC
-Other tension or inquiry : 110V dc - 127V dc - 230V dc
-Without override key ref : SAN
-Without push button ref: SVB
-Without override key and push button ref: SVBAN
OPERATING PRINCIPLE:
Energised solenoid enables key release after rundown time or operating
cycle completion and prevents unauthorized restart.
Key free or key trapped possibility to use the padlocking device.