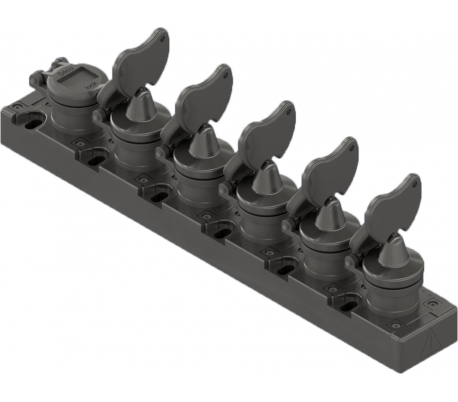 View larger
EXL-6E
CHARACTERISTICS:
Allows exchange of a number of keys against an other
- 2 to 6 keys ref : 2E, 3E, 4E, 5E, 6E
- FOB (wall) mounting ( BOB mounting possible at your choice)
- Ambient temperature -25°C to 90°C
MATERIALS:
Stainless Steel 316L
OPTIONS:
- Electrical switch contacts: AC-15:400V/4A,(see for detail ref : MCU)
- 1NC+1NO (trapped key) ref : MCUOF
- 2NC (trapped key) ref : MCU2O
- 2NO (free key) ref : MCU2F
Note: the switch is always operated by the 1st key (operating key).
- Lock dustcover ref : CE
For more then 6 keys exchange see product ref : TCL
- Key ejection ref : EJC
For ulta flat exchange type, see type EXLFM (please contact us)

OPERATING PRINCIPLE:
Insertion of one or more operating keys releases one or more secondary keys.
Operating key(s) are trapped when the secondary keys are released and reverse.