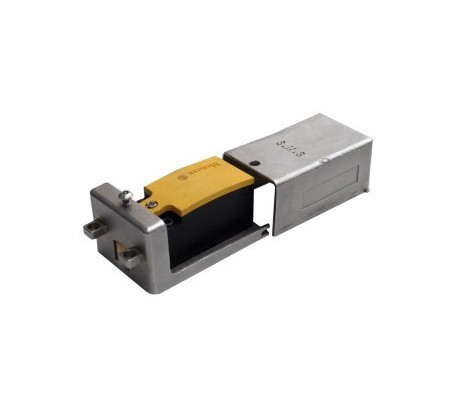 View larger
MCU
SAFETY SWITCH CONTACT MODULE
CHARACTERISTICS:
- Electrical safety switch module fits without modification
to any of our products like BLT Bolt lock, ACS Access locks, or EXL Key exchangers.
- Fitted with protection cover and sealed with a safety crew
to prevent unauthorized switch access.
- Resistant up to a temperature of -25°C to 80°C (up to -40°C ref: T-40)
- Cable gland M20x1.5
MATERIAL:
Stainless Steel 316
ELECTRICAL FEATURES:
- AC-15:400V/4A- Positive breaking safety contacts
- 2NC+1NO ref: MCU2FO
- 2 NC contacts ref: MCU2O
- 2NO contact ref: MCU2F
- 1NC +1NO contacts ref: MCUOF
- Ingress protection: IP 67 ref: IP67
OPTIONS:
- Back of Board version (Panel Mounting) ref: INV
- ATEX 1NO+1NC contact with 3 meters of cable
(for other type please contact us) ref: ATEXOF3
OPERATING PRINCIPLE:
The module MCU can be fitted without any technical modification
of the host lock. It monitors the key or latch status and/or provides
for safety circuit control functionality.